I recently had the pleasure of capturing a little girl with her dog at a picturesque orange and olive farm, and let me tell you, it was a truly magical experience. The mum had a beautiful vision in mind - she wanted some stunning portraits of her 3-year-old daughter with their beloved King Charles Spaniel, who is 12 years old. And let me just say, capturing the bond between a child and their pet dog is something truly special.
Pets & little kids make for gorgeous photos!
Pets hold a special place in our hearts, especially for children. They become more than just furry companions; they become best friends, confidants, and partners in crime. That's why it's so important to capture these precious moments with our furry family members. These photos serve as a lasting reminder of the love, joy, and companionship that kids experience growing up with their pets.
Swan Valley is filled with beautiful locations.
For this particular session, we chose a location amidst the orange trees, which added a vibrant and refreshing backdrop to the photos. The little girl was dressed in a sunny yellow and dresses from MillaRuby Designs & Dollcake (from our client's closet) that perfectly complementing the bright oranges hanging from the trees. The colors created a cheerful and warm atmosphere, adding an extra touch of magic to the photos.
A Special Bond
The girl and her furry friend had an absolute blast during the photo session. They ran through the rows of orange trees and shared sweet cuddles that melted everyone's hearts. It was incredible to witness their genuine connection and the pure joy radiating from their faces. The dog's wise eyes reflected years of loyalty and love, while the girl's giggles and wide smiles showcased the innocence and happiness of childhood.
As a photographer, I am always humbled by the opportunity to capture these special moments. I believe that children should grow up with beautiful photos that capture the essence of their unique bond with their pet dog. These photos become treasured keepsakes, allowing them to revisit these memories as they grow older and fondly remember the love and joy they shared.
The session at the orange and olive farm was a testament to the power of photography in capturing the magic of childhood and the beauty of the human-animal bond. It reminded me of the unconditional love that pets bring into our lives and how they become an integral part of our family stories.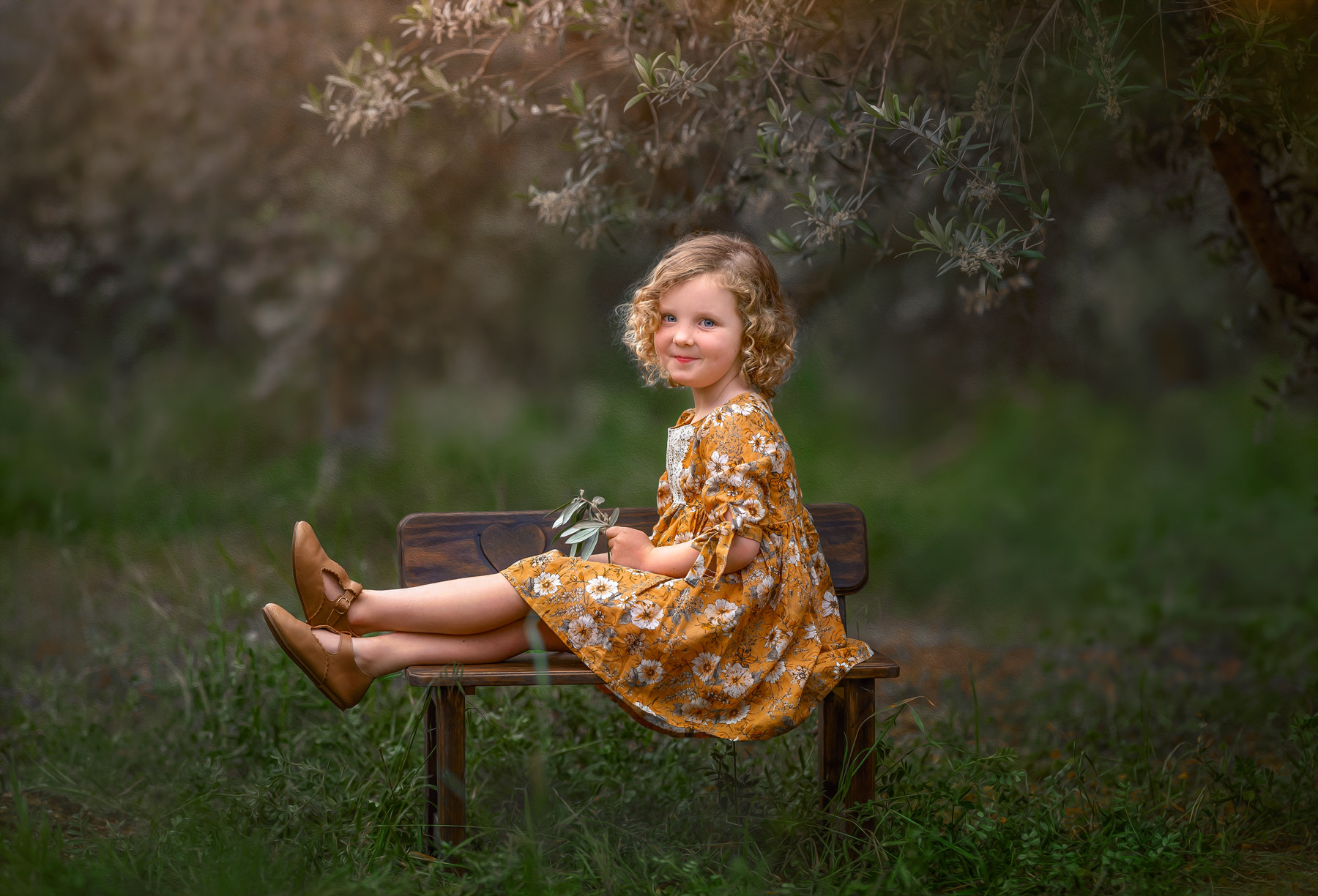 So, if you have a child who shares their days with a furry friend, I encourage you to consider a photo session that captures their beautiful bond. Whether it's at a stunning location like an orange and olive farm or even in the comfort of your own backyard, these photos will serve as a timeless reminder of the joy, love, and adventure that come with growing up alongside a loyal pet.
A little girl and her dog photoshoot at the orange and olive farm was a delightful and heartwarming experience. It highlighted the importance of capturing the bond between children and their pets, as these photos become cherished memories that evoke love, happiness, and nostalgia. So, let's celebrate the magical connection between kids and their pet dogs and create beautiful portraits that will be treasured for a lifetime.
You can see more beautiful images of children with their pets in out blog post - Children with their pets portraits