Recently, I had the opportunity to do a Perth children water-creek portraits with a 3-year-old boy and a 5-year-old girl. The location was stunning, with crystal clear water and a lush green backdrop that added a magical touch to the photos. But what made this photoshoot truly special was the family's attention to detail and creativity, which made for some fun and memorable moments.
Styling the water creek session
Mum had styled the children in neutral colours, with rain boots that added a pop of colour. The boots were not only practical for the creek, but they also added colour and a playful touch to the photos. I always recommend to keep the clothing neutral and simple so the attention can be on the people in the portraits. The kids looked adorable as they splashed around in the water.
Click HERE for tips on how to style you kids for a portrait session
Props that add a story to the portraits
To make the photoshoot even more enjoyable, we brought some props along. Mum made up a simple fishing line that the kids loved playing with. The kids pretended to catch fish, putting them in their little bucket which made for some great photo opportunities. We also had a small boat and a clear umbrella that added to the mood of a wet, rainy winter day. These props added a whimsical touch to the photos, and the kids loved being able to play with the props in the water.
For gorgeous rain boots and coats check out my favourite store Crywolf.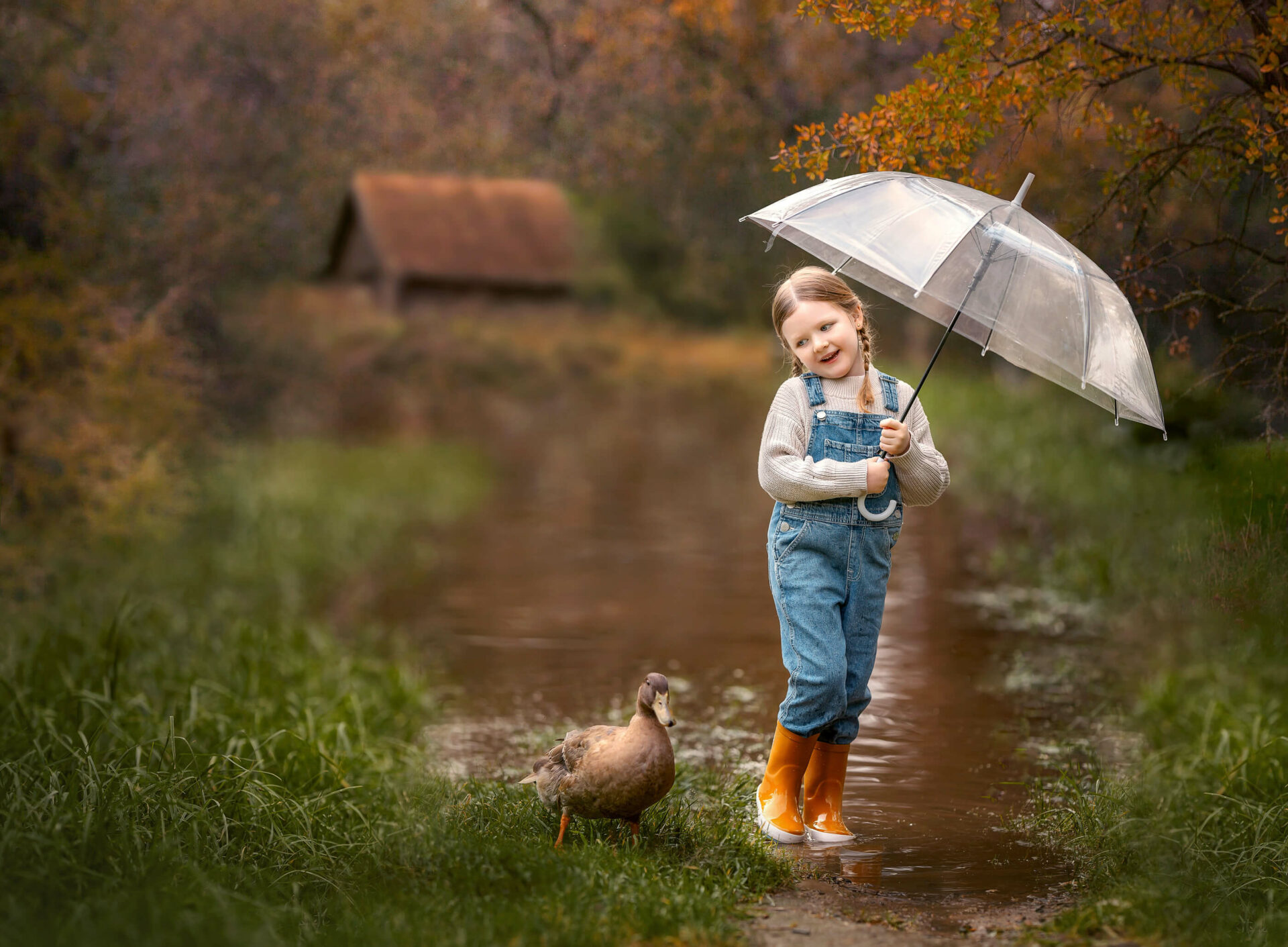 Don't forget the pets!
But the most unexpected surprise was the family's pet duck, Waddlesworth. The duck was a curious little thing and was not shy about swimming around in the creek. The kids were thrilled to have Waddlesworth there, and it was fun to incorporate him into the photos. At one point, we were a bit worried that the duck might swim away, but he always came back to his mum. It was heartwarming to see the bond between the duck and the kids, and it made for some truly unique and unforgettable photos.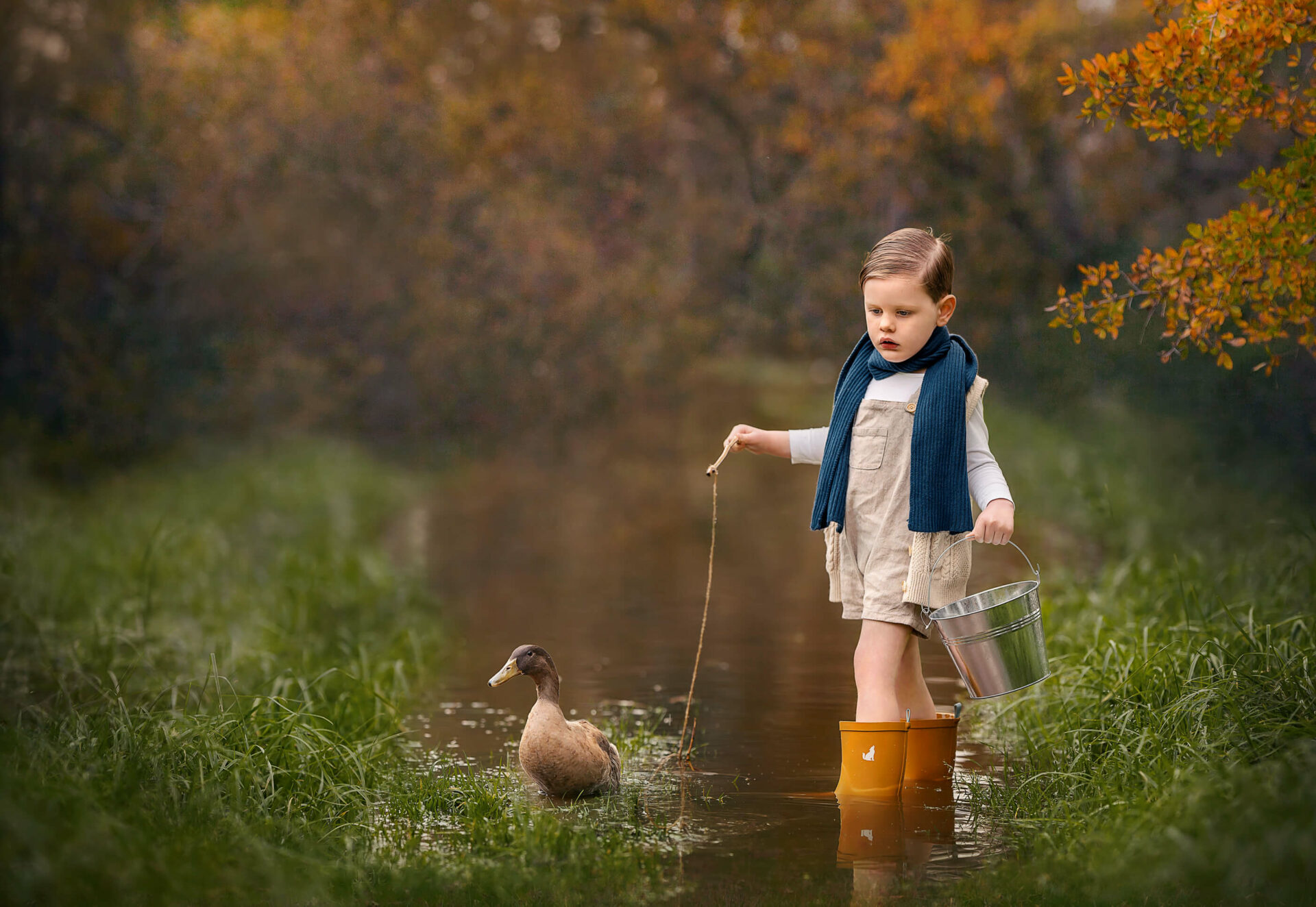 The water creek children's photo session in Perth was such a magical experience that I have decided to offer these sessions every year. The location was stunning, mum was so creative and thoughtful in their styling and prop choices, and Waddlesworth added a touch of charm and whimsy to the photos. It was a joy to see the kids having fun and being themselves, and I am so grateful to have been a part of this special moment.
I have some tips HERE on how to keep kids engaged during a portrait session.
This experience is a testament to the power of photography in capturing special moments in time. It's not just about taking pictures; it's about creating memories that will last a lifetime. Whether it's a family photoshoot in an orchard or a solo kids portrait session in a water creek, each moment is unique and deserving of being captured in a way that reflects its true beauty and magic.
Book your children a water creek portrait experience
A water-creek portrait session for your kids can be an absolute blast! Not only is it a chance for your little ones to splash around in the cool water and show off their cute rain boots, but it's also an opportunity to capture some truly magical moments that you'll cherish forever. With the beautiful scenery and playful props like fishing kits and little boats, your kids will be grinning from ear to ear and having the time of their lives. And who knows, you might even get lucky like our recent photoshoot, and have a surprise guest appearance from a friendly neighbourhood duck. So don't miss out on this amazing experience - grab your kids, and let's make some memories that will last a lifetime!
Take Better Photos Of Your Kids At Home
The best tips for how to take better photos of your kids outdoors or in your home.
BASED IN PERTH,WA
AVAILABLE TO TRAVEL WORLDWIDE