Tips to keep kids engaged during a photoshoot.
It is often said that kids and animals are the hardest subject to photograph. They don't like to stay still, they do what they want to do and they do not follow your instructions. So, how can we take beautiful photographs of children, capture their personalities and keep kids engaged during a photoshoot? As a Perth Children Photographer, I have photographed kids for over 8 years and children's photoshoots are one of my favourite sessions ever. For more inspiration, have a look at my children's portfolio here.
Photographing kids doesn't have to be hard. Here are a few things I have learned over the years to keep kids engaged and happy during a photoshoot and capture real, candid images.
1. Keep the session relaxed
Children feed off other people's energy. As a photographer it is very important to always keep calm and relaxed during the session. It is also important for parents to stay calm and let the photographer take charge. Professional photographers who regularly work with children know how to engage children and get their attention. Your job as a parent is to enjoy the experience. With little kids, a photographer may sometimes ask the parents to assist but usually it is not needed.
2. Become their friend
Building a rapport with the little ones is super important. At the beginning of a session, always take a moment to introduce yourself and spend a few minutes talking to the children. Tell them that you are here to take their pictures. Ask them lots of questions to get them interacting with you. Ask them what they like to do, their favourite colour, what games they like to play, their favourite animal etc. Let them explore and get involved in what they are doing, what are they curious about. Most children make friends easily and if they see you as a friend, your job will become that much more easier.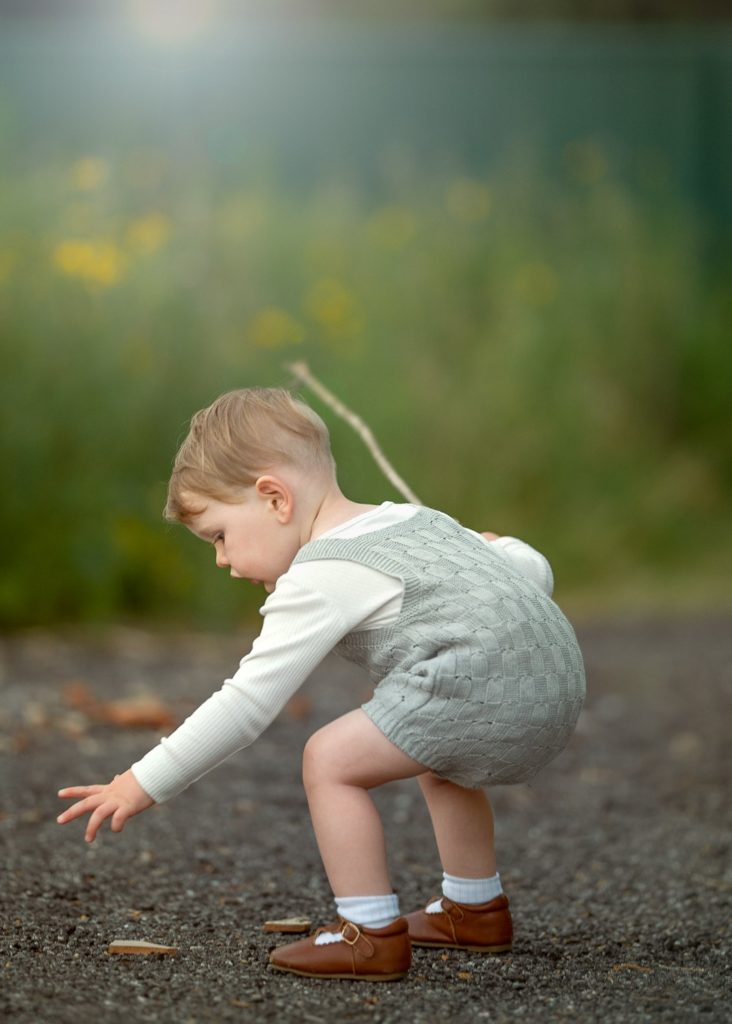 3. Let them explore!
Kids love to explore. In an outdoor environment, there is so much to see and do and the last thing a kid wants to do is sit still and wait for you to take photos. Make it fun for them, play games, ask then to do activities e.g smell the flowers, find the caterpillar, race, twirl, jump - the options are endless. Even when they are moving fast (which kids do most of the time) - if you are patient enough, they will give you little moments of staying still allowing you to capture some stunning, candid pictures. The key is to stay patient and not force them to smile or sit still, that will only lead to fake smiles and an unwilling subject.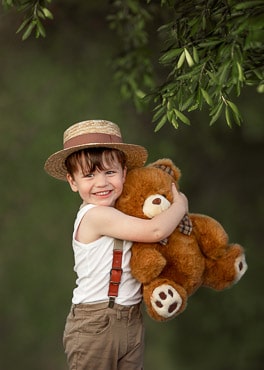 4. Bring Props
The right prop can add a fun/storytelling vibe to a photograph. Props should always be simple and not take the attention away from the subject. Fluffy toys, books, plane, vintage camera, vintage toys are not only entertaining to the kids, they give the children something to hold, interact and engage with - resulting in genuine expressions and smiles. No more weirdly positioned hands! Have a look at Salvos and antique shops for vintage items that can be used as props. Vintage items usually have beautiful textures and muted tones and add a timeless feel to the final images. Australian retailers like Hipkids offer many vintage inspired toys. You can also find objects at the shoot location and include them in the photos such as flowers, branches and sticks.
5. Give lots of positive feedback
The best way to keeps kids engaged during photosession is to give positive feedback constantly! Just like adults, kids are more likely to follow your instructions if they feel appreciated. Praise them for being amazing. This works especially well for older kids but most toddlers will respond to it positively as well.
Hope this little guide helps you with photographing your own children. Keep a look out on my blog for more helpful tips coming soon.
Sacred Seed Photography is a Perth children photographer based in the Swan Valley, Western Australia serving all metropolitan areas including Guildford | Swan Valley | Maylands | Nedlands | Applecross | Ellenbrook | Edgewater | Padbury | Como and more
Take Better Photos Of Your Kids At Home
The best tips for how to take better photos of your kids outdoors or in your home.
BASED IN PERTH,WA
AVAILABLE TO TRAVEL WORLDWIDE